When Decatur County CASA needed someone to build this year's playhouse, Tennessee Building Components, located in Decaturville, quickly stepped up.
"It's for the kids and we know we wanted to help," declared Crystal McBride, financial controller. "In Decatur County, we're a small county and there are not many businesses, but we are here to help. We have new owners and we are all about helping the community, schools, sports, clubs, non-profits, etc."
Riverside High School will quickly attest to that fact. Tennessee Building Components recently donated all the trusses for the new FFA barn which was just dedicated, which was a several thousand dollars donation to the school project.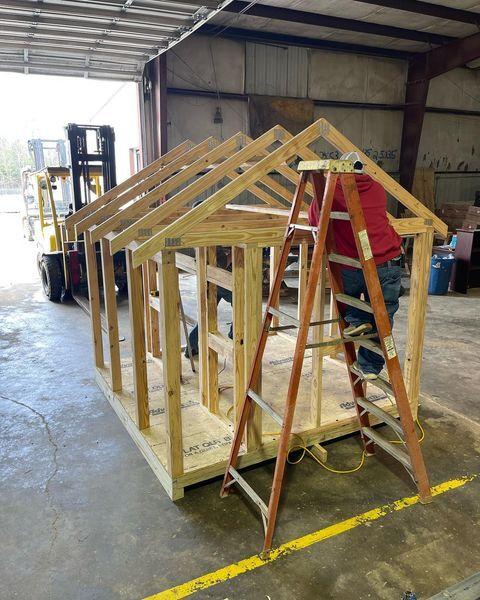 "We want to build a good reputation of willing to help others," added Kris Hein, plant manager. "And we know we always want to help kids."
CASA is a voice for children in Decatur County who are having to navigate through the court system. All money contributed to the program goes toward the recruitment, training, and supervision of the advocates who are working day to day with these children. These very special advocates, who are court-appointed volunteers, do the hands on work with the children who have experienced abuse or neglect. They help them to have a safe, permanent home and the opportunity to thrive and have a happy life and will monitor the child until the case is permanently resolved.
For more information about becoming an advocate, you may contact the Executive Director of Decatur County CASA, Pamela Bartholomew at 731-549-4759.
"Building this playhouse for CASA was just the right thing to do and we're in a position where we can," Hein continued. "It feels good to give back and see the joy on people's faces."
McBride and Hein, along with the rest of the playhouse team builders, Mickey Barnickel, Jonathan Cruz and Brent Carnett say it feels good to be able to give back and see the joy on people's faces, especially on the faces of the winning CASA playhouse ticket.
"We were so excited that we were able to have the opportunity to work on this project with CASA. Our company always strives to make a difference in our community and also in the lives of others. We knew we had to make this project extra special, so we sat down with some of our most tenured employees, explained to them what the project was and they were more than excited to jump in to help. It was a great team effort."
The cute 8 X 8, "Tea Light" green playhouse took about 160 hours to build, longer than expected, because the workers were so meticulous in their dedication to making it perfect for the little girl or boy who will win it. All the material was purchased locally to benefit other businesses.
"We just want the child to have years of playtime, building fond memories that will last a lifetime!"
Tickets for the playhouse are $25 each or 5 for $100. They can be purchased at Tennessee Building Components during regular business hours; Decatur County Bank, Parsons branch; Ut Extension Office in Decaturville; Mammies in Parsons; Crye-Leike Tapesry Realty in Parsons; and Decatur County Farmers Market in Decaturville, Saturday, May 6 and Saturday, May 20 from 8 to 10 a.m. They may also be purchased online at https://decaturcountycasa.org/playhouse/?mibextid=Zxz2cZ
"CASA board members looked around when we were looking for someone to build the 2023 playhouse and we looked at Tennessee Building Components, because we knew they had great quality products with the trusses and we knew they would be able to have a great quality house," Director Bartholomew stated. "This year, we have the biggest and one of the best houses we've ever been blessed with. Some people want to use it as a she-shed or even a pet house!"
The house will be on display at Decatur County Bank in Parsons beginning Monday, May 1. Tickets will be sold until time of the drawing, which will be Saturday, May 20 at the Decatur County Farmers Market in Decaturville at 10 a.m.