By Logan Langlois
NASHVILLE TN — People and families packed themselves inside the McGruder Family Resource Center Saturday, Jan. 21 at 9 a.m. to participate in the expungement clinic hosted by lead organizer Judge Rachel L. Bell. The purpose of the clinic is to help those who come with criminal records and qualify for expungement begin a fresh chapter in their lives. The outreach also works in connecting people with other services often needed by those attempting to re-integrate into society such as food, hygiene supplies and assistance with securing employment.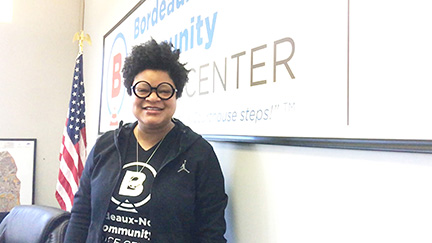 "Most of the people that are her today are gonna get a clean slate," said Judge Bell proudly. "If you've already paid your debt to society, you've done what you're supposed to do … you gotta give people the ability to get back on their feet."
Bell has been doing this kind of outreach for just over a decade now, beginning with other pilot projects when she first became a judge in 2012. She celebrates the fact that her and her fellow organizers have been able to maintain their current location at the McGruder Family Resource Center for three years now.
"People are so happy, 'cause some of them have like, thousands of dollars hanging over their head. That's somethin' that they'll never be able to pay off," said Andrew Dick, program manager for the Music City Community Court and formally the court officer for Judge Bell. "Once that's gone … just like the relief as they're walking out 'thank God!' They can finally move on."
Within the main room, rows of chairs fill up the middle of the auditorium facing a stage standing opposite the front door. A dozen different booths with the purpose of helping recently incarcerated individuals reintegrate into society sat lined up against the surrounding walls. The event also comes equipped to cater, providing breakfast sweets and coffee located next to the main room stage as well as food trucks serving participants outside of the front of the building. Throughout the day, a family-friendly DJ from the radio station Streetz 99.3 FM plays hip-hop in order to help create an atmosphere of levity.
Patricia Malone Smith, the workforce development manager for the Middle Tennessee Urban League, detailed how organizations like hers are able to connect with the people who attend the expungement center in an attempt to better their lives.
"From I think June [20]21 to '22 … [There was] $506,834 brought back to the community. So when I say that, I'm talkin' about individuals who were able to be placed in a job that we were able to assist them with," she said.
Since beginning her outreach, Judge Bell reports that the crime in 37208 has gone down and violent crimes between individuals between the ages of 18-30 are going down, though quality-of-life crimes (which she defined as crimes for basic necessities such as theft of food) remain consistent. Judge Bell believes that quality-of-life crimes still work to harm the community which surrounds them because they lead to more surveillance of citizens by the state. She also said that many quality-of-life crimes are often committed because the individual doesn't know where to get access to outreach programs.
Meetings for expungement also provide information regarding different opportunities for employment, education and human necessities are typically scheduled to take place as often as every other month. The next meeting is projected to take place once again at the McGruder Family Resource Center in Nashville on March 4th.